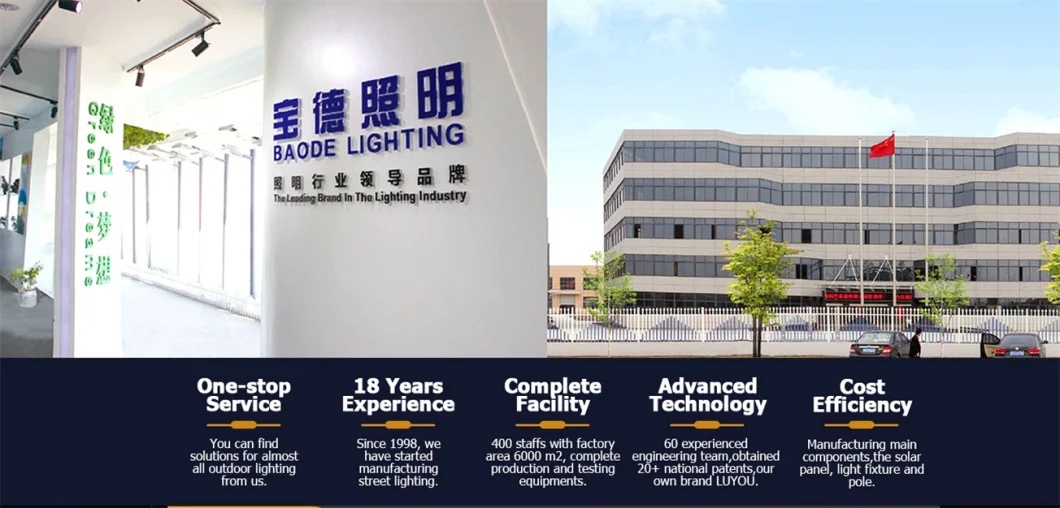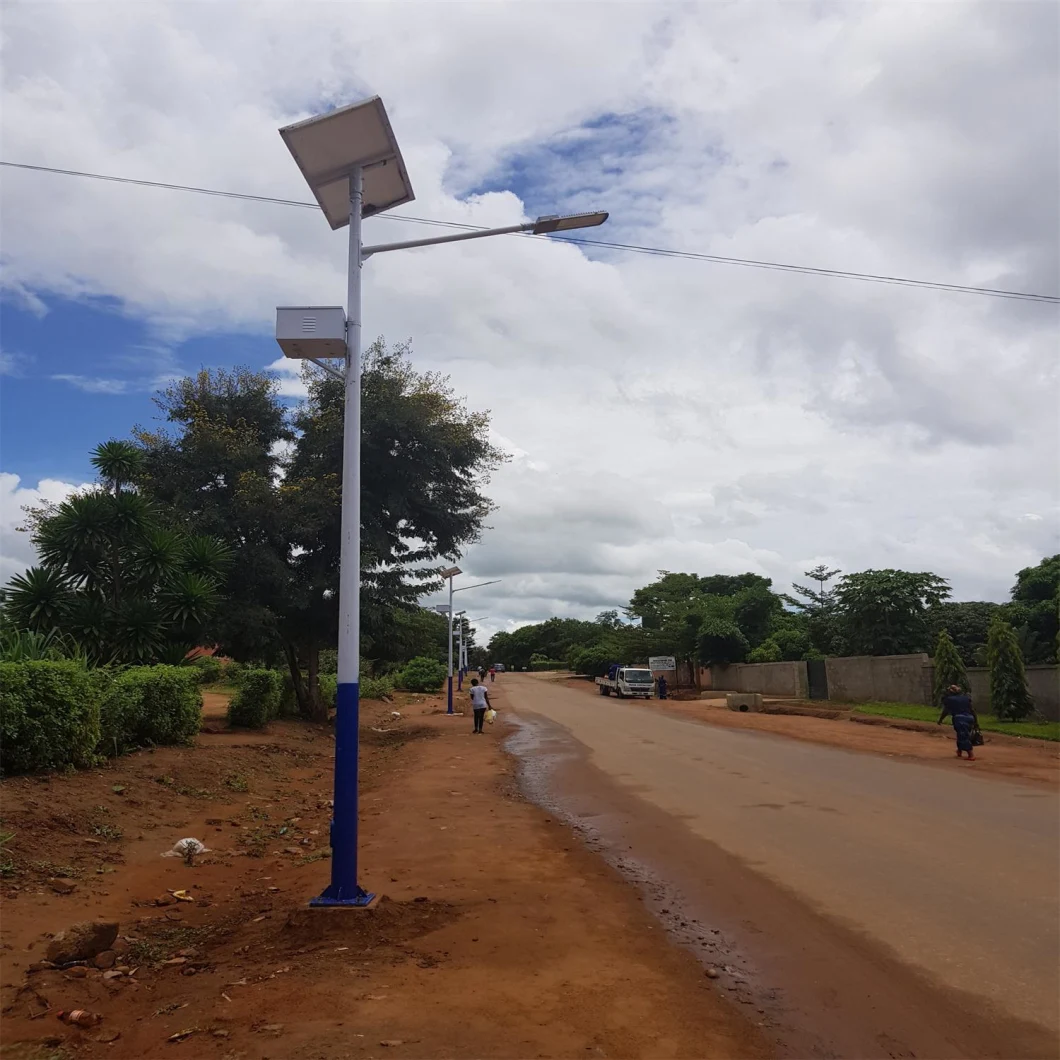 We proud of our product
SPECIFICATION
Certificate CE SGS
Pole 8M High, hot-DIP galvanized steel, powder coated
Light source 45W High power LED, energy saving light, 2000LUMENS, 15LUX on the ground
Solar panel 180W mono-crystalline or poly-crystalline, conversion efficiency 15%
Battery 90AH/12VX2piece, maintenance free, fully-sealed lead acid storage battery
Controller 24V 10A, automatically controlled by microcomputer, over-charge and over-discharge protection
Working time 6-8 hours per day, 3-5 rainy or cloudy days backup when the battery is fully charged
Working temperature -20oC-+50oC
Model of switch light or time control
Wind Resistance 136km/h(please consult with us for the higher wind resistant models)
Battery Position underground, at the foot of the pole
Life span 80000hours
Safety grade IP65
The design, configuration and manufacture according to the customers requirements
Solar panel power 100W-200W
Light power 15W-100W (Luminous Flux 2500-5100LM, Illuminance 15-24Lx)
Pole height 7M -15M
Battery Gel cell deep cycle battery or standard deep cycle battery 80AH 100AH 150AH 200AH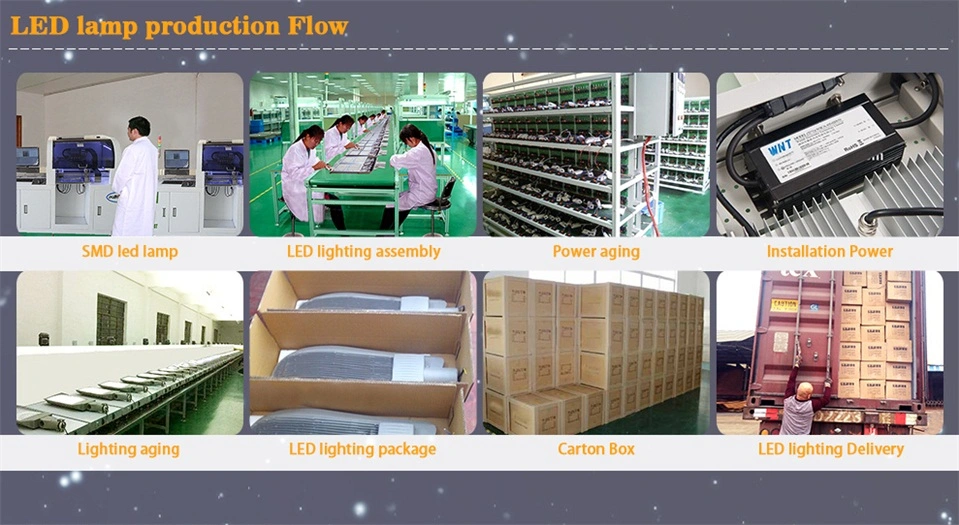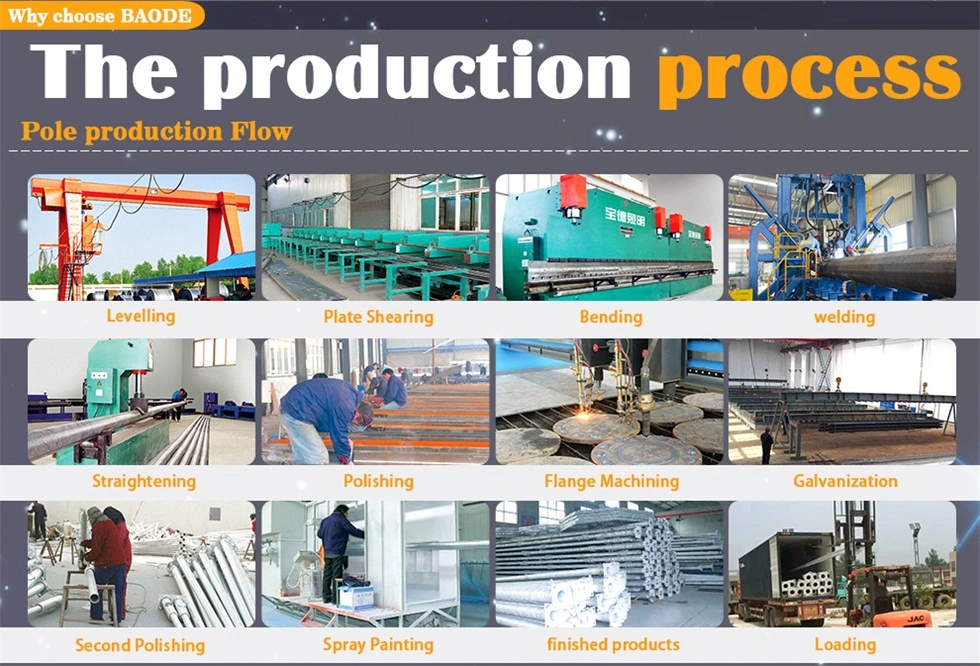 Components
Parameters
Solar Module
Pmax(W)
30-400W
Vmp (V)
35.0V
Imp (A)
2.86A
Light Fixture
Material
Aluminum die casting & Toughened glass
Operating Temperature
-40°C~75°C
Protection Level
IP65
LED Light Source
LED Chip
BRIDGELUX / Cree (Top brand in U.S.A.)
Color Temperature
3800-6500K(white)
Luminous flux
5300 LM
Operating temperature
-40°C~75°C
Current Source
DC 12V/24V
Power
15W/18W/21W/24W/30W/36W/42W/48W/54W/60W
Lighting Pole
Height
3m/ 4m/ 5m/ 6m/ 7m/ 8m/ 9m/ 10m/ 11m/ 12 m
Material
BAOSTEEL GROUP Q235/345/GR60
Surface Treatment
Hot-dip galvanizing, Static spray,
Size
φ60-φ200,δ3-5m, vary according to models
Flange Plate
300*300*16, vary according to models
Battery
Capacity
200AH (100AH*2pcs)
Type
Gel/AGM Battery
Dimension
546*1203*30
Weight
28Kg
Controller
Rated voltage and current
12V/10A or 24V/10A waterproof
Weight
0.165Kg
Two times rainy day backup
&Protective Function
Two times of rainy day backup.
Good protection: overcharging, discharging, voltage surge, reverse polarity, etc.
Accessories
Cable
2.5 mm2, 15m
Battery Box
200AH ABS battery box or metal box with hot-dip galvanizing spray treatment
Solar Street Light Details
A GRADE high efficient solar panel
Mono: 18% convert efficiency
Poly: 17% convert efficiency
5 years warranty for solar panels
USA BRAND LED and Aluminum Section Bar Light Fixture
LED: BRIDGELUX/CREE
Long life time: 1W LED with 1 heat sink, fast heat dissipation makes it 100,000 hours long life time
STRONGER POLE with 20 years life time
Larger diameter: our pole is 10% larger in diameters
Thicker wall: we offer 0.25mm thicker pole than that of the market. For example, we offer 3mm thickness for 6m pole, while other, 2.5-2.75mm
Bigger foundation kits: for example, we offer M18-20*1000mm bolts for 6m light, while others, M16-18*800mm
Thicker zinc galvanization and painting: we offer 100 μm zinc and coating than the standard 80 μm
TWO TIMES rainy day backup waterproof controller
Rainy day backup: 2 times more rainy day backup, savings in battery
Combined LED driver and controller as one, easy to maintain
IP67: ideal for high humidity and dust areas
Energy saving mode: THREE periods of power adjustment available
All metal shell: high strength and fast heat dissipation, giving long life time
UL LISTED GEL battery
Long service life (1600 cycles @ 30% DOD)
Better Weather-ability (-20 ºC ~ 50 ºC)
Fully sealed construction
Why Us
One-stop Service
You can find solutions for almost all outdoor lighting from us, like street lighting, square lighting, landscape lighting, traffic lighting and commercial lighting and so on.
Vertically Integrated Production System
You will enjoy high-quality product with cost-effective price from us because we manufacture most of the main components from LED source, light fixture, solar panel, pole and even painting powder to control the cost and quality.
15 Years Manufacturing Experience
Since 1998, we have started manufacturing street lighting. The 15 years' experiences have been a persuasive insurance for us to offer reliable products.
Large Factory with Complete Facility
We have 400 staffs with factory area 6000 m2. We also equipped with complete production and testing equipments, such as Steel Pole Rolling Machine, Spray Machine, Pressure Machine, Integrating Sphere, Lighting Simulating Machine and Weather-ability Testing Machines, etc . .
Advanced Technology
Our 60 experienced engineering team work with the PV institute of Shanghai FUDAN University , Shenzhen Foxconn to R&D outdoor lighting products. We have obtained over 20 national patents and built our own brand LUYOU.
Cost Efficiency
Manufacturing main components to save cost. BAODE manufactures the solar panel, light fixture and pole to control the cost and quality.
Factory outlet. There's no middleman between the manufacturer BAODE and domestic and oversea buyers.