CSBattery High-Temp Deep cycle GEL Battery 12V/6V/8V
HTB12V Patented High-Temp Deep Cycle Solar gel battery, own 15-20years long life, your best partner for solar market and hot area.
CSBattery HTB series of 12V Solar GEL deep cycle batteries are recognized as the most reliable and high quality battery system in the industry. They are designed with advanced patented GEL technology, Long service life designed with 15-20 years, 50% DOD 1500-1600 Cycles, the batteries comply to the most popular international standards, such as IEC60896-21/22, BS6290-4, Eurobat Guide.
Deep Cycle GEL Batteries 12V100Ah, 150Ah, 200Ah most popular models Advanced Features:
Ø Environmentally friendly Ø Completely Maintenance-Free ØNon-Spillable construction design.
Ø Wide Operating Temperature Range(-20°C~+60°C) Ø Longer Life(20years designed life) Ø Explosion Proof
Ø Valve Regulated & High Discharge Rate Capability Ø Low Self Discharge Ø Independent of Position
Ø Ease of Shipment Ø No need of balanced charge or boost Ø No Memory
Chinese Best Quality Solar GEL Battery Sunny Battery Applications:
Ø Communication equipment Ø Telecommunication control equipment Ø Emergency lighting systems Ø Electric power systems Ø Power station
Ø Nuclear power station Ø Solar powered and wind powered systems Ø Load leveling and storage equipment Ø Marine equipment Ø Power generation plants
Ø Alarm systems ØUninterruptible power supplies and stand-by power for computers Ø Medical equipment Ø Fire and security systems Ø Control equipment
Ø Stand-by electric power.
CSBattery HTB12-26 UPS system Long Life Deep Cycle GEL Solar Battery
-------------------------------------------------------------------------------------------------
CSBattery HTB12-26 UPS system Long Life Deep Cycle GEL Solar Battery
HTB12-26

Nominal Voltage

12V (6 cells per unit)

Design Floating Life @ 25ºC

15 Years

Nominal Capacity @ 25ºC

20 hour rate@ 21.0A, 5.4V

26Ah

Capacity @ 25ºC

10 hour rate (37.8A, 5.4V)

23Ah

5 hour rate (66.8A, 5.25V)

20.5Ah

1 hour rate (233.3A, 4.8V)

15.9Ah

Internal Resistance

Full Charged Battery@ 25ºC

≤11.5mΩ

Ambient Temperature

Discharge

-25ºC~60ºC

Charge

-25ºC~60ºC

Storage

-25ºC~60ºC

Max.Discharge Current

@ 25ºC 1260A(5s)

Capacity affected by Temperature (10 hour )

40ºC

108%

25ºC

100%

0ºC

90%

-15ºC

70%

Self-Discharge@25ºCper Month

3%

Charge (Constant Voltage) @ 25ºC

Standby Use

Initial Charging Current Less than 6A Voltage 13.6 - 13.8V

Cycle Use

Initial Charging Current Less than 6A Voltage 14.4 - 14.9V

Dimension (mm*mm*mm)

Length 166±1 * Width 126±1 * Height 174±1 (Total Height 174±1)

Weight (kg)

8.5±3%

CSBattery Product Structure



CSBattery Assembling



CSBattery Quality Control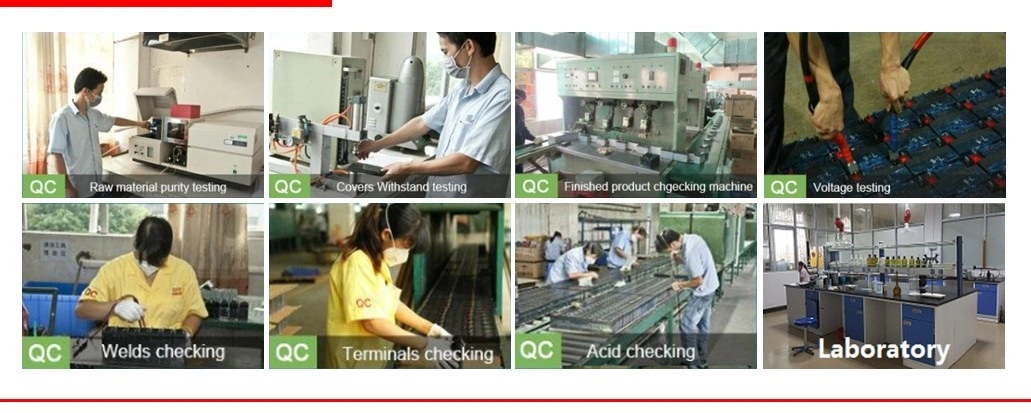 CSBattery Project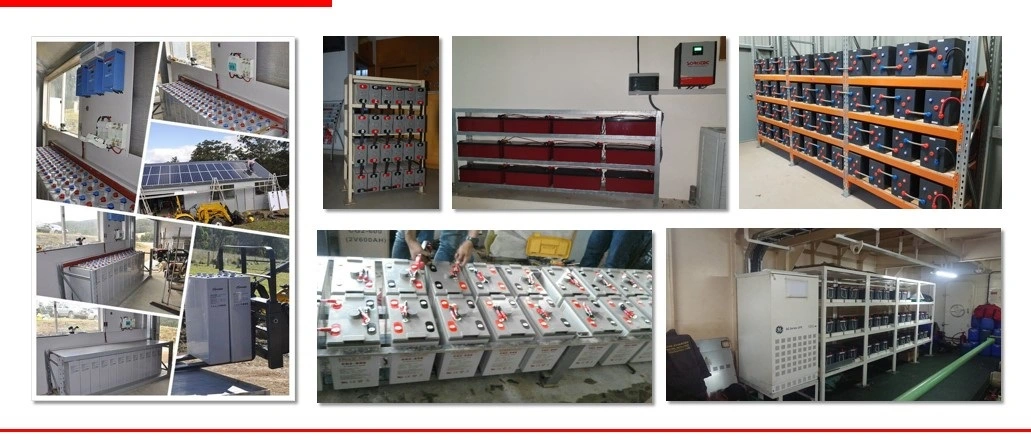 CSBattery Application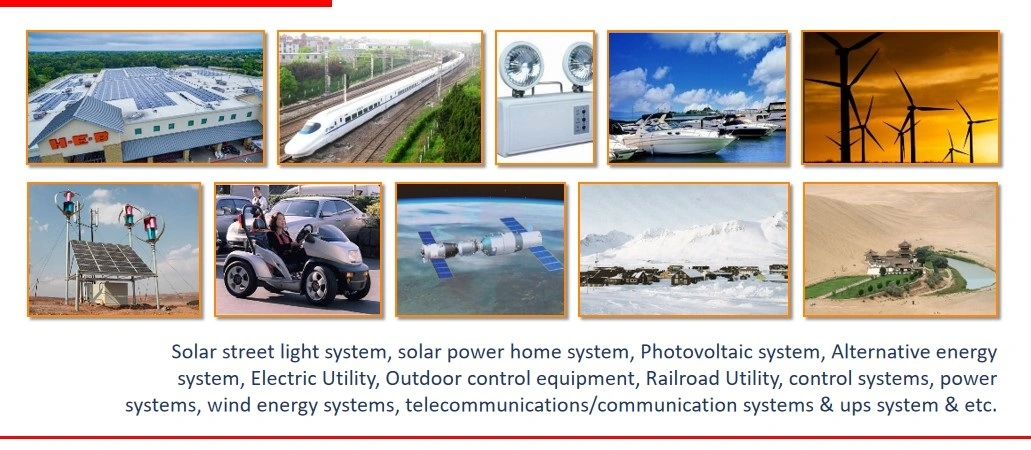 Application for HTB High Temperature Deep Cycle GELBattery:
ØElectric Powered Vehicles ØWheel Chairs ØBTS Stations ØMedical Equipment Ø Solar and Wind ØGolf Cars and Buggies ØPower Tools ØControl System ØUPS systems ØEmergency systems

CSBattery Factory


CSBattery ENERGY CO.,LIMITED is a professional manufacturer and exporter of environmental friendly Rechargeable Deep Cycle AGM Sealed Lead Acid (SLA) Batteries, Solar GEL Batteries, Front Terminal Battery, High Temperature long life GEL battery, OPzV Battery, Car/Auto Batteries, Telecom Batteries, Lithium batteries and other Solar related products such as Solar inverter, Solar charger controller, Solar panel and so on.

CSBattery Customers



CSBattery Packing



CSBattery FAQ
---------------------------------------------------
Ø Q1. Can your battery be delivered by sea and air?
A: Yes, our batteries can be delivered both by sea and by air. We have MSDS, test report for safe transport as non-dangerous products.
Ø Q2. Can I put my logo on the battery?
A: Yes, you can print your logo on our batteries when you order reach 20ft container quantity. If not, price will be negotiated.
Ø Q3. Can I fast charge my battery?
A: Fast charging is not recommended as ifs harmful for the battery.
ØQ4. Can I do a partial replacement of my batteries?
A: Partial battery replacement of lead acid battery banks is not recommended.
Ø Q5. How about your delivery time usually?
A: About 7 days for stock products, around 20 days for half container products, 30 days for 20ft full container products.
Ø Q6. Are you a battery manufacturer, and do you produce the plate by yourself ?
A: Yes, we are a professional battery manufacture in Guangdong Province, China. And we produce plates by ourselves.
Ø Q7. What certificate your company have?
A: ISO 9001, ISO 14001, OHSAS 18001, CE, UL, IEC 61427 test report, Patent for gel technology and other Chinese honor.
Ø Q8.What is your warranty time for VRLA battery ?
A: It depends on battery capacity, depth of discharge, and battery usage. Please kindly contact us for accurate information based on detailed requirements.
Ø Q9. Why battery has different capacity at different hour rate?
A: The capacity of a battery, in Ahs, is a dynamic number that is dependent on the discharge current. For example, a battery that is discharged at 10A will give you more capacity than a battery that is discharged at 100A. With the 20-hr rate, the battery is able to deliver more Ahs than with the 2-hr rate because the 20-hr rate uses a lower discharge current than the 2-hr rate.
Ø Q10. What is the shelf life of VRLA battery and how to maintain the battery?
A: The limiting factor of battery's shelf life is the rate of self-discharge which itself is temperature dependent. VRLA batteries will self-discharge less than 3% per month at 77° F (25° C). VRLA batteries should not be stored for more than 6 months at 77° F (25° C) without recharged. If in hot temperature, recharge it every 3 month. When batteries are taken out of long storage, it is recommended to recharge before use.
Ø Q11. How does your factory control the quality?
A: We Adopt ISO 9001 quality system to control the quality. We have Incoming Quality Control (IQC) department to test and confirm raw material meets high quality producing requirements, Production Quality Control (PQC) department contains The first Inspection, In-process quality control, acceptance inspection and full inspection, Outgoing Quality Control (OQC) department confirm no defective batteries come out from the factory.
-------------------------------------------------------------

Product Specifications and Models
----------------------------------------------------------------------------
High temperature Long Life Deep Cycle 12V GEL BATTERY Module list

Model

Nominal Voltage (V)

Capacity (Ah)

Dimension (mm)

Net Weight

Gross Weight

Terminal

Length

Width

Height

Total Height

kgs

kgs

HTB12-14

12

14

152

99

96

102

3.8

3.9

F1/F2

HTB12-20

12

20

181

77

167

167

6

6.1

T1/L1

HTB12-24

12

24

166

175

126

126

8.3

8.4

M6

HTB12-26

12

26

165

126

174

179

8.4

8.5

M6

HTB12-35

12

35

196

130

155

167

10.5

10.7

M6

HTB12-40

12

40

198

166

174

174

14.2

14.4

M6

HTB12-55

12

55

229

138

208

212

16

16.5

M6

HTB12-70

12

70

350

167

178

178

23.3

23.8

M6

HTB12-75

12

75

260

169

208

227

25

25.5

M6

HTB12-85

12

85

260

169

208

227

26.1

26.6

M6

HTB12-90

12

90

307

169

211

216

28.2

28.7

M6

HTB12-100

12

100

307

169

211

216

30.2

30.7

M6

HTB12-110

12

110

328

172

218

222

33.5

34

M8

HTB12-120

12

120

407

173

210

233

39.2

39.7

M8

HTB12-135

12

135

344

172

280

285

40.8

41.3

M8

HTB12-150

12

150

484

171

241

241

45.5

46

M8

HTB12-180

12

180

532

206

216

222

56

56.5

M8

HTB12-200

12

200

532

206

216

222

58.6

59.1

M8

HTB12-230

12

230

522

240

219

225

65

65.5

M8

HTB12-250

12

250

520

269

203

207

71

71.5

M8

HTB12-300

12

300

520

269

220

226

77

77.5

M8
Contact Booie